For five weeks I've been recommending anime series that are great to binge watch, and which provide something of an uplift while we're in lockdown.
You can see my previous recommendations: the anime romcom of Toradora, the 'Sci-Fi noir' of Cowboy Bebop, the stunning beautiful drama of Violet Evergarden, and the 'slice of life' that's Barakamon. And read my blog about why anime is worth watching.


I've faced a lot of indecision as to what I should present in this final week; there's certainly a whole host of brilliant feel-good anime shows not covered, including Iroduku The World In Colours (Amazon Prime), Hinamatsuri (Funimation, Crunchroll), Spice and Wolf (Funimation), Bunny Drop (Crunchyroll) and many more… But instead, now for something completely different. My recommendation this week is a very strange comedy called Miss Kobayashi's Dragon Maid.
Miss Kobayashi's Dragon Maid
"...overall this is a quirky show that is warm-hearted, funny and with some unexpected emotional punches."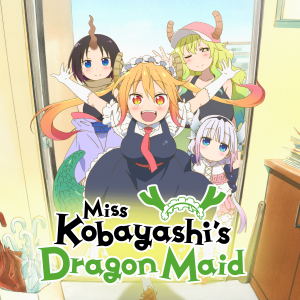 Miss Kobyashi's Dragon Maid: Kyoto Animation 2017, 14 episodes, 7.7/10 on IMDB
One morning Miss Kobayashi, who works for an IT company in Koshigaya, wakes up with a hangover. Things aren't helped when she heads off to work to find a very large dragon outside her front door which is adamant that it wants to work as her maid.
Thankfully, the dragon (Tohru) can mostly transform into a human (although the tail may be a bit of a giveaway). It soon becomes clear that although she professes she wants to be a maid a) this is more because Miss Kobayashi helped save her a long time ago and b) she is not actually very good at being a maid. Miss Kobayashi's neat ordered life, which seems to consist of work-drink-sleep-hangover, is well and truly disrupted. Things get even more complicated when yet more dragons follow Tohru and move into her life!

And that's about it as far as storyline goes – if you're looking for something deep and meaningful see my previous reviews. Miss Kobayashi's Dragon Maid is just a bit of frothy fun, with both visual gags and ongoing jokes which repeat throughout the show. That's not to say it doesn't have its finer moments – there's some good character development, the overall message of the show is about family, and although the dragons make mistakes when they interact with humans, you'll soon be wondering who's more out of touch – them or Miss Kobayashi?
This show is from Kyoto Animation, so naturally it's extremely well done, and the animation style they've deliberately gone for is vivid pastel colours, which suits Miss Kobyashi's Dragon Maid's off-beat not-trying-to-be-reality atmosphere just fine.
In terms of downsides, this show really isn't too serious about itself so probably won't suit everyone. And (fair waning) there's sometimes gags about breasts in a few episodes (absolutely nothing explicit or insulting, and nothing like the Blazing Saddles-esque humour of Konosuba), so if you can't ignore that you may find it off-putting. But overall this is a show that is genuinely warm-hearted, funny and with some unexpected emotional punches.

At the time of writing, Miss Kobayashi's Dragon Maid is streaming on Funimation and CrunchyRoll, which you can either watch for free if you don't mind all the adverts, or sign up for a free month's trial. It's also sometimes on Netflix. Note: whilst the English dub isn't bad, I'd recommend the Japanese with subtitles on this one.
Thanks for reading and for all the comments on this mini-series of articles. Remember the aim has been to highlight some of the most uplifting anime series around (which may or not be the best or my favourites). So, if one person has found a new show to watch that has made them smile in these often gloomy times, it's been worth it!


Page Updated 28/02/2021