What anime is | Why watch anime | Recommendations | Good to know
Introduction
Welcome to another rambling set of thoughts and tips, and this time I turn my attention to the creative force that is 'anime'. (Click here to go straight to my recommendations, if that's all you came here for).
Anime has often been my 'go to' for pure escapism when taking a break from work, writing, reading or running (has been known to happen). Lately the genre seems to be gaining ground in the UK, with a great selection of DVDs or Blu-rays now available and increased prominence on streaming platforms.

Here I try to explain what anime is and why it's worth watching, together with a range of recommendations for you to try. I'm not an expert – books are more my thing, after all – but I can report on what I've seen and enjoyed. So go on, give the genre a whirl; you never know, you might find something completely new to enjoy! Besides… I think it's fair to say many of us need a hefty chunk of escapism in our lives right now, in this very strange world that 2020 has become?
What Anime Is
First of all, forget what you think you know about anime. It is not a series of repetitive fights and incomprehensible shouting (which might be the impression gained from children's shows). In other words you must unlearn what you have learned…
Anime is just a medium. It coversa range of sub-genres, from children's shows to comedy, from historical dramas to science fiction. The quality of both animation and writing has surged over the years, and many pieces of work are now the equal (or better) than animation emerging from Hollwood.

Anime is literally animation that originates from Japan. It's certainly not just something for children; indeed, the Oscar-winning director Hayao Mayazaki is reputed to have initially been surprised that children liked some of his early work. That's not to say that there's not a lot of the genre targetting the YA market, or that it isn't sometimes childish…!
The anime industry in Japan is huge, with an estimated 400+ studios, though quantity certainly does not always equal quality. (I'll admit it; for each show that is a diamond there's another five that are just graphite.) One downside of the industry is that many studios don't always pay or treat their staff that well; thankfully this is changing, with respectable studios such as Kyoto Animation providing much better conditions. Always buy DVDs or stream from reputable channels, then you can be sure you are supporting the developers.
But
why

on Earth watch that stuff…?

The best way I can describe why anime is worth watching is this: there's always a certain magic cast by animation, a disconnect from the world around us; and anime is just so much better in weaving this spell. (Well, good anime, anyway.) Within the genre I've discovered so much that's worthwhile:
Stories which drew me in; and although they often turned dark (and came with a punch to the gut), were ultimately uplifting.
Worlds real and imagined; with achingly beautiful animation of both city and country that equalled the best cinematography.
Cracking good soundtracks that I would be humming all week.
Clever symbolism that was only noticed on a second viewing.
Quirky characters that have had me laughing, crying and even thinking about the questions in life that really matter.
In short, if you've ever enjoyed a good story with a hint of humour and magic to it, then you need to dip your toe into these waters.
These are some of the best stories I've come across:

A book-loving woman is reborn into a medieval world where there are no books; in an online game players are trapped, and death in the game means death in real life; two children try to survive in the aftermath of WW2 Japan; a man goes back in time to prevent a series of murders; young people 'battle' it out, performing classical music; a businessman ends up adopting his grandfather's illegitimate daughter; a group of friends are reunited by the ghost of one of their childhood companions.

All a long way from incomprehensible shouting and fighting, right? (Though admittedly there are some shows that do even that well.)

My own first exposure to anime was the 1988 Akira, a dystopian film which resonated with a cry of disaffected youth that rang just as true as Rebel Without a Cause. Whilst admittedly the target audience was the age I was then, it made me think: I never knew animation could be like this. It opened my eyes to stories more complex than anything emerging from a saccharin-laden Hollywood.
That fascination was rekindled in 2001 by the incredible Spirited Away; not just a wonderful story on a number of different levels, but hand-drawn animation that was genuinely beautiful. I went on to explore the entire Studio Ghibli back catalogue; and then, following breadcrumbs of recommendations, series produced by the likes of Sunrise Studio, Ufotable, and Kyoto Animation.

Anime has brought uplifting stories and heart-warming characters to me… and a genre that remembers some of the best tales are fun. So yes, the genre certainly has its flaws, but the best of it displays a realm of creativity.
Recommendations

OK, onto my suggestions. Obviously there's plenty targetted at the child / YA market (think Dragon Ball, Naruto, Pokemon, Inuyasha) but I'm going to concentrate on anime that an older audience can also appreciate. These aren't necessarily 'the best' anime has to offer, or even my own top 10, but hopefully give you a wide flavour of the genre.
Spirited Away | Cowboy Bebop | Death Note | Iroduku | Stein's Gate | Your Name | Attack on Titan | Shouwa Genroku Rakugo Shinjuu | Black Butler | When Marnie Was There | And more…
1. Spirited Away (Film, 2001)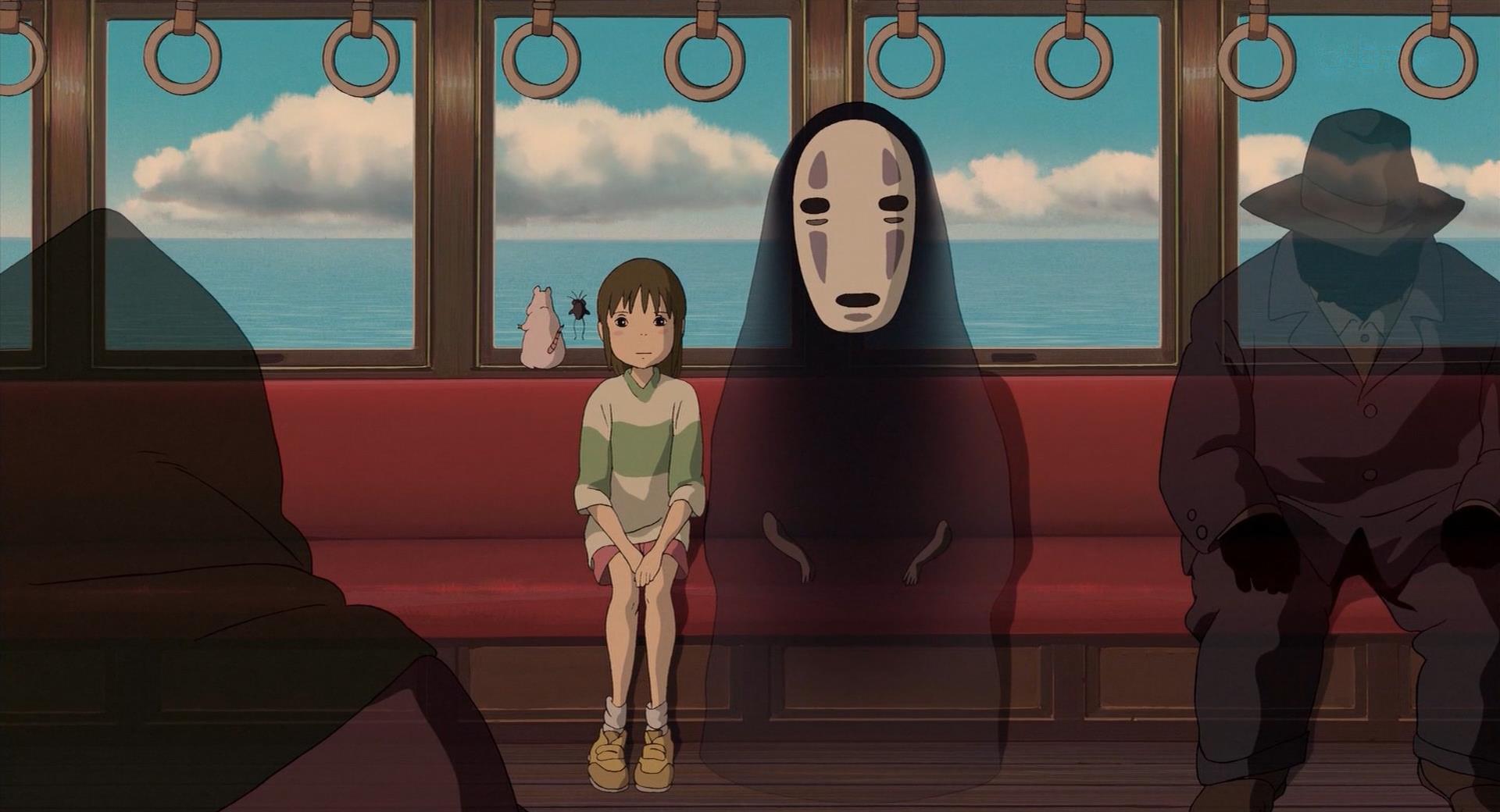 If you've never watched anime before, the works of Studio Ghibli are a great place to start. Directed by the legendary Hayao Miyazaki, Spirited Away tells the story of Chihiro, whose parents are taken by the spirit world. It is up to her to rescue them, and in the process she learns a lot about life and herself. This isn't just a great anime but an Oscar winning movie. OK, it's definitely a kid's film, but it's so good everyone should watch it at least once. The beautiful hand-drawn animation and a soundtrack by Joe Hisaishi makes this a feast for the senses.
Like Disney? You're sure to like this.
IMDB score 8.6/10 ; Rotten Tomatoes rating 97%
Currently on Netflix in the UK, DVD / Blu-Ray
2. Cowboy Bebop (one series, 1998)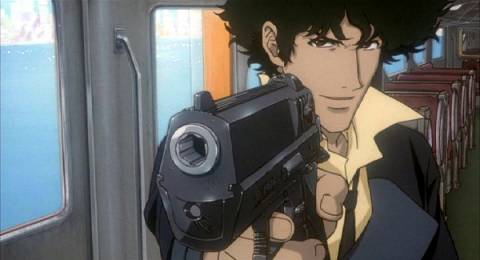 Cowboy Bebop tells the story of Spike and his gang, a ragtag group of space bounty hunters eking out a precarious existence in a distant future. Every episode tends to be a bit different from the last, depending on what contract the gang have – space opera one time, something with more comedy the next. A great series to binge on, Bebop just oozes with 1990's cool and a chilled jazz soundtrack.
Enjoy the Josh Whedon series Firefly? You'll find lots to enjoy in this.
IMDB score 8.9/10 ; Rotten Tomatoes rating 100%
Currently free in the UK on All 4, DVD / Blu-Ray
3. Death Note (one series, 2006)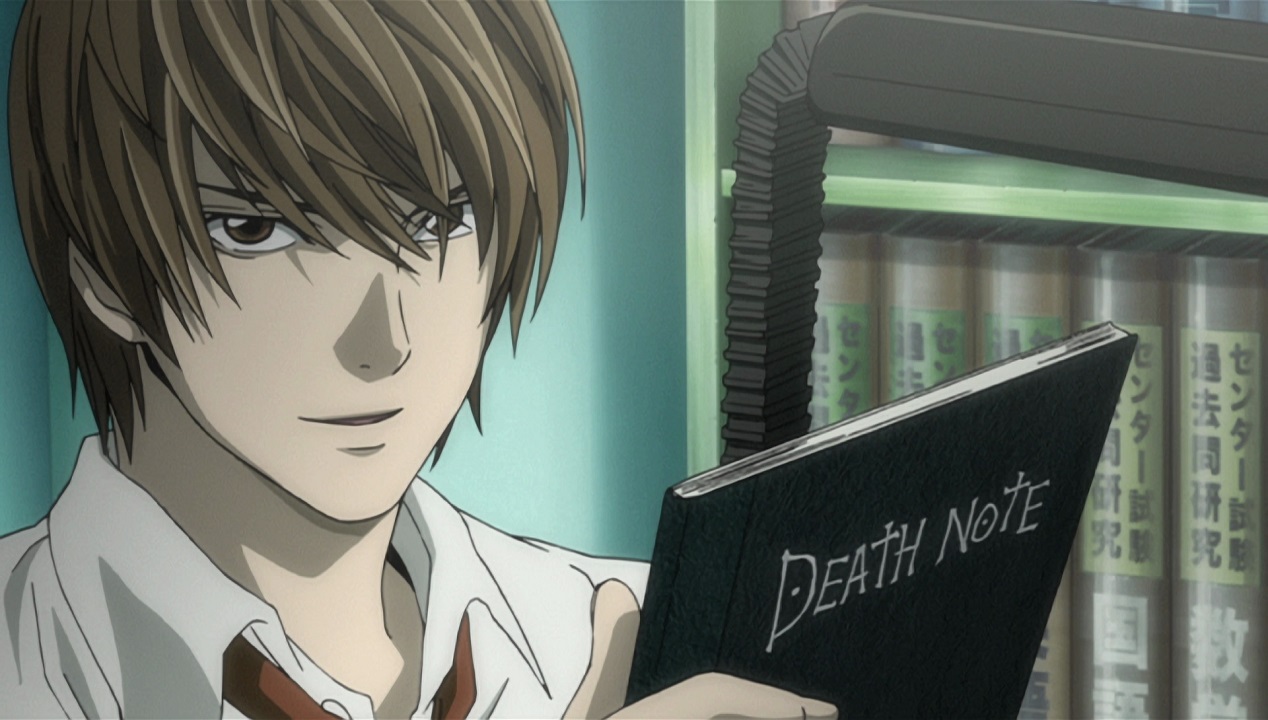 What would you do if you found a book that gave you the power over death, just by writing names in it? Light Yagami finds such a book and uses it – as he tells himself – to rid the world of evil. But a mysterious detective known as "L" is soon trying to track him down. This show has been praised by critics, it's often a dark, psychological series (some would say scary), certainly not for children, and one that raises some profound questions. Note, this is one show where you want to avoid any spoilers!
The twists, turns and manipulation that goes on may well have you thinking of House of Cards.
IMDB score 9.0/10 ; Rotten Tomatoes rating 95%
Currently on Amazon in the UK (not free), DVD / Blu-Ray
4. Iroduku The World in Colours (one series, 2018; Japanese with English subtitles)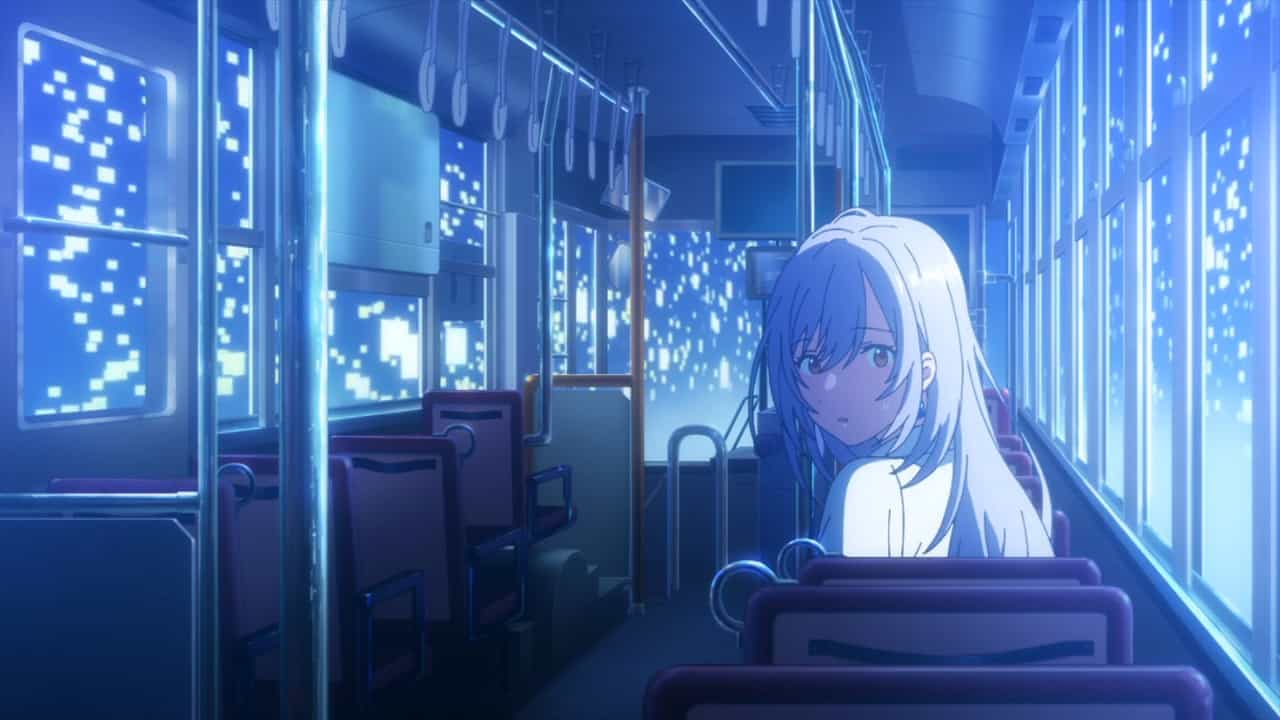 An overlooked gem. Those expecting a romcom go away dissatisfied; those expecting a fantasy adventure are disappointed… but Iroduku is neither of these, it's the story of a girl battling with depression, which manifests itself in the fact that she has lost the ability to see colours. To help, her grandmother sends her back in the past to our present day. A dialogue-heavy slow-burn of a show, this doesn't gloss over Hitomi's struggles by providing a miraculous 'fix', but instead shows her progress as she makes friends who just don't give up on her.
Intensely beautifully animated and uplifting, this is a show many – both young and old – could gain a lot from watching.
IMDB score 7.3/10 ; Rotten Tomatoes rating n/a
Currently free on Amazon Prime in the UK
5. Stein's Gate (one series, 2011)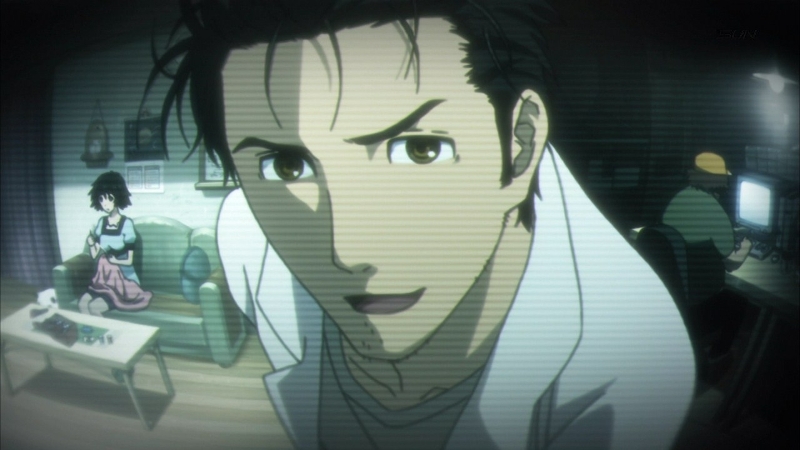 A sci-fi series built around time travel – or at least, the ability to send messages into the past. Set in Tokyo, it follows Okabe (a self-proclaimed mad scientist) who, together with his friends, runs experiments from his run-down apartment. This series is slow to get started, but trust me; once you're in the second half of the series, you will want to go back and re-watch those early episodes. There's great character development, humour, a complex and well thought-out story, and distinctive atmospheric artwork.
Stein's Gate isn't just a fabulous anime series, but possibly one of the best ever sci-fi series. Fans of the X-files may well become fans of this.
IMDB score 8.8/10 ; Rotten Tomatoes rating 100%
N.B., don't confuse with Stein's Gate 0, which is a 'sequel'.
Currently on Netflix in the UK, DVD / Blu-Ray
6. Your Name (Film, 2016)
A boy living in Tokyo and a girl living in the country have a problem; they periodically swap bodies! They embark on a quest to try and meet each other, but there's a lot more to this story than that. Your Name is the highest grossing anime movie of all time, and it's hard to believe it didn't win an Oscar. Directed by Makoto Shinkai (who some are calling the next Miyazaki) the animation is outstanding, especially the scenery. The handful of characters are well portrayed, it tells a cleverly-woven story – and even the English dub version is excellent!
If you like the subtle charm and symbolism in films like Amelie, then you'll find this captivating; but anyone who enjoys great cinematography will love it.
IMDB score 8.4/10 ; Rotten Tomatoes rating 98%
Currently available to stream on most UK movie channels, DVD / Blu-Ray
7. Attack on Titan (three series 2013-; 4th and final series in production)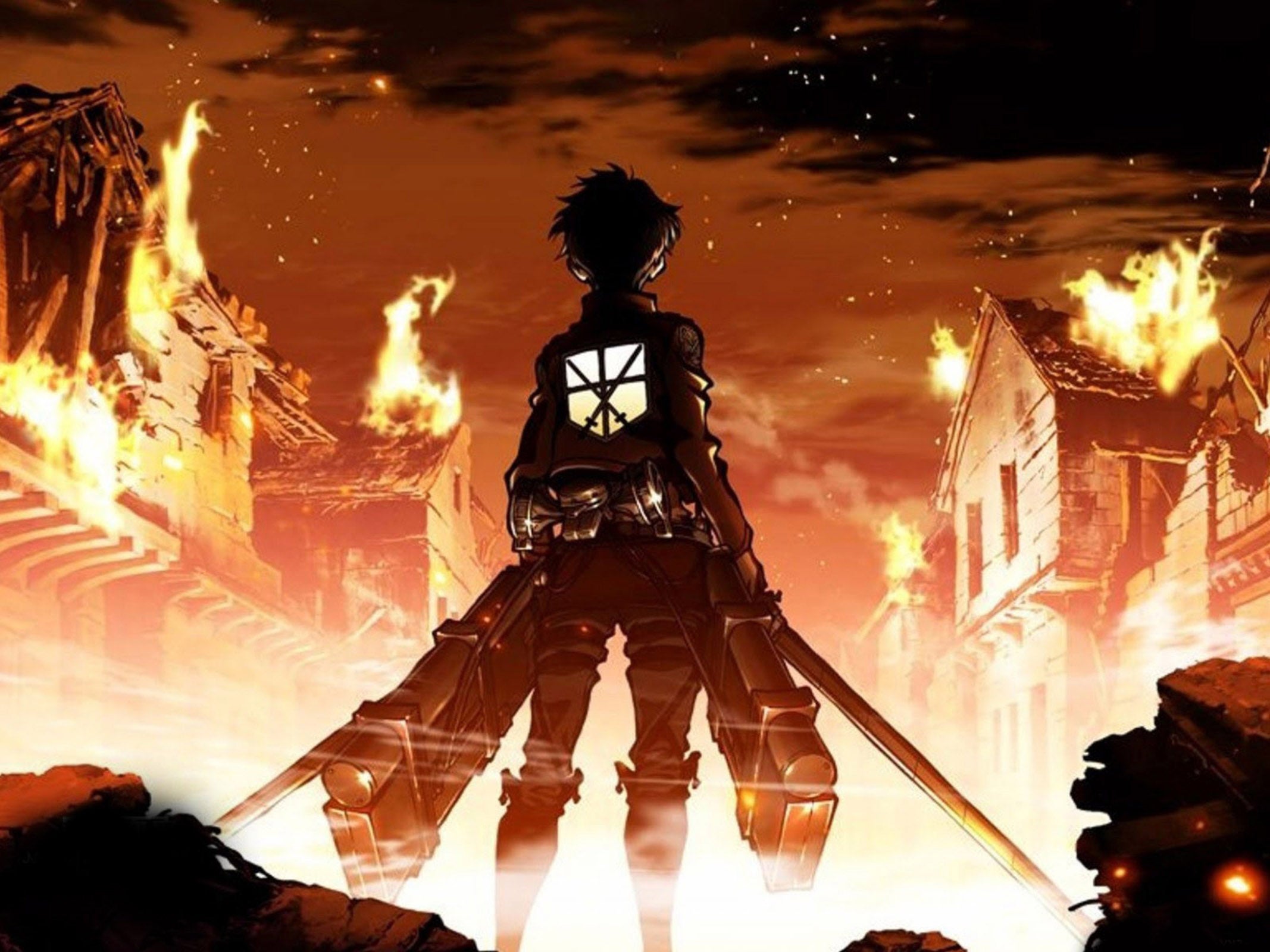 Humanity lives surrounded by huge walls which protect them from the roaming carnivorous Titans – giants who eat people, seemingly without motive or reason. The tale centres on three very different young people (Eren, Mikasa and Armin) who join the army to help defend, but there's almost as much a threat inside the walls as without. This show isn't as 'deep' as some, but there's plenty of twists and turns in the story; and both animation and characters are spot on.
Please note: the gore can be graphic, so this is not a series for children; but if you sort of enjoyed The Walking Dead, you'll sort of enjoy watching this.
IMDB score 8.8/10 ; Rotten Tomatoes rating 94%
Currently available in the UK on Netflix, Crunchyroll, DVD / Blu-Ray
8. Shouwa Genroku Rakugo Shinjuu (One series, 2016; Japanese with English Subs)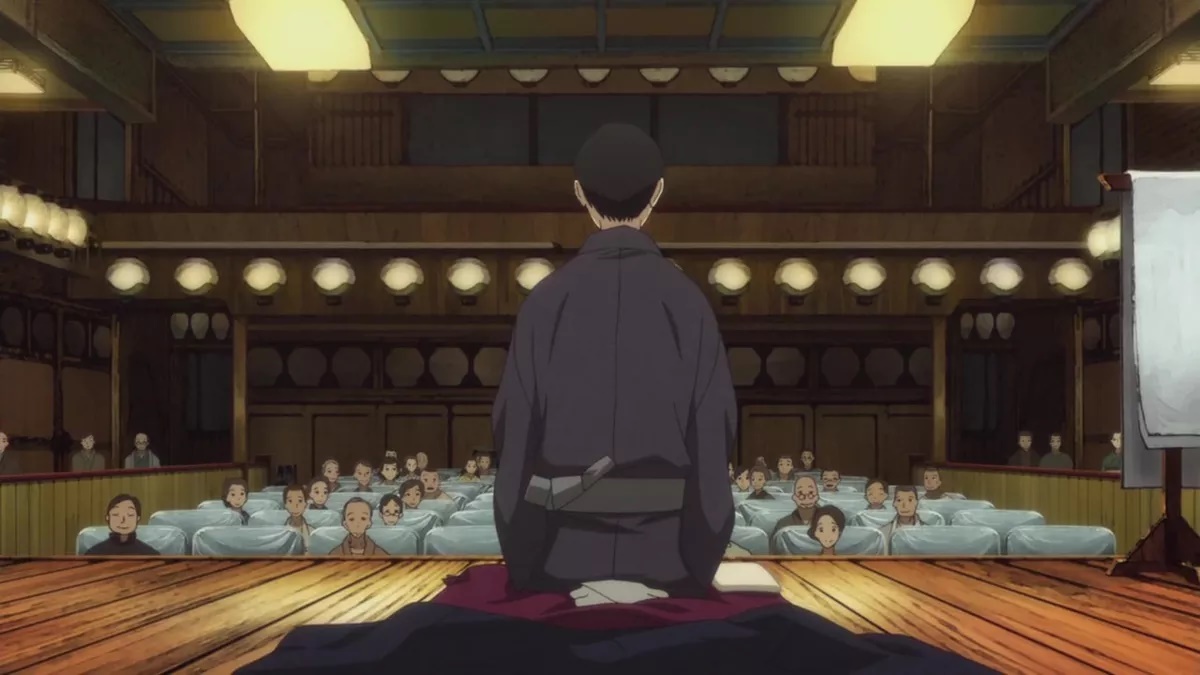 A man recently released from prison wants to turn his life around by becoming a traditional storyteller (a Rakugo). This is a tale set in both past and present. It's about the art of Rakugo and the core characters (master storyteller Yakumo, apprentice Yotarou, and Konatsu, a young woman under the master's care); yet it's also about the clash between old and new Japan. This is a pretty deep story, and whilst the synopsis may not make this sound the most exciting of shows, it draws you in. (Besides, the stotyteller in me loves this one.)
If you like character-driven drama, you'll love this.
IMDB score 8.3/10 ; Rotten Tomatoes rating NA
Currently available in the UK on Crunchyroll
9. Black Butler (three series, 2008-2010)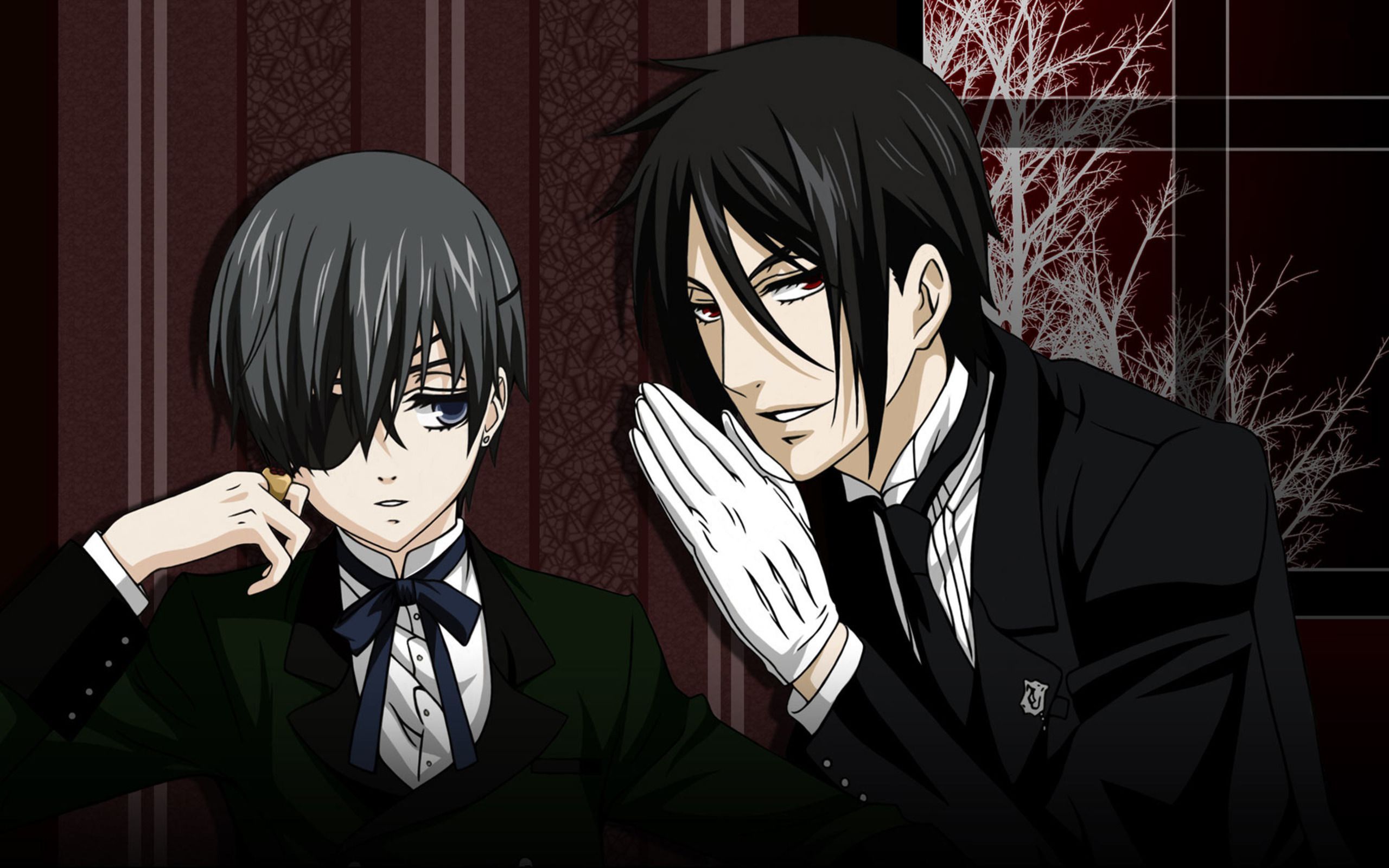 After his parents' death, a boy in Victorian England sells his soul to a demon to avenge them. The demon transforms himself into a butler to help him fulfil this role. The interwoven stories, character development, and some really good dialogue make this an entertaining series. It's very 'anime'; definitely quirky and has a dark edge, but also lots of humour and fantastic character interaction. And it's another show where the English Dub is really well done!
IMDB score 7.8/10 ; Rotten Tomatoes rating NA
Currently available on Funimation, Blu-Ray
10. When Marnie Was There (Film, 2014)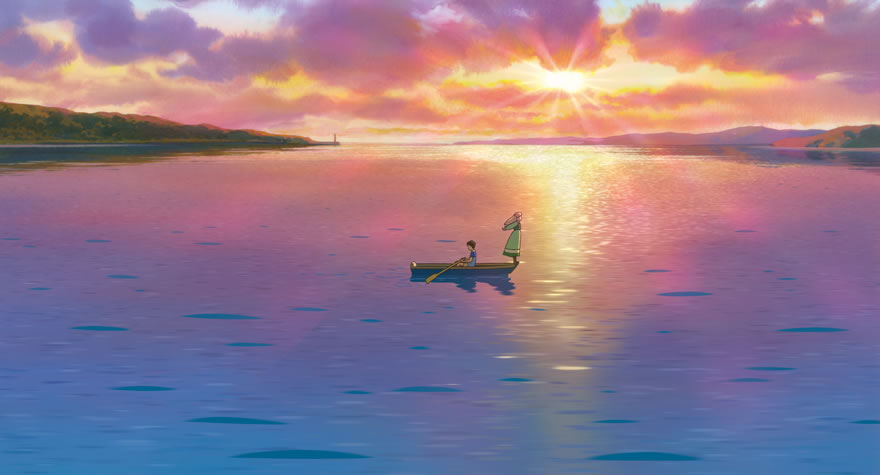 Anna is sent to live with relatives in the countryside because of her asthma (making me instantly relate to this show). Shy and withdrawn, she finds it hard to fit in; but then she meets Marnie, a girl who lives in the house across the bay… (and to say more would give away huge spoilers!) This is a much 'quieter' film than many (no explosions or fights), but guaranteed to put a smile on your face when you get to the end.
The film tells the story really well (adapted from a 1967 British novel). If you appreciate adaptations of work such as E Nesbit and F H Burnett, you'll appreciate this.
IMDB score 7.8/10 ; Rotten Tomatoes rating 88%
Currently available on Netflix in the UK, DVD / Blu-Ray
And more…

Other great shows, all of which are worth a look:
(f) = film
The Small Print (or, things that may be helpful for a novice anime viewer…)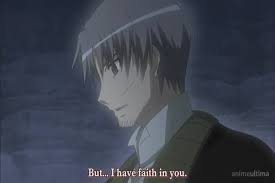 Translation: Most anime have an English dub, but some are only available in Japanese with English subtitles. Please don't be put off, as these can be amongst the best shows (and sometimes the subtitles can be a better interpretation than the dub).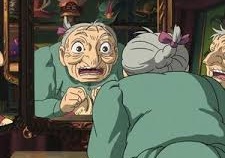 Watch out for that left hook: Sometimes the story will take a sudden turn halfway through (often for the darker). The best-written anime will have dropped subtle clues to this earlier that you may only notice on a second viewing. Oh, and fair warning; this isn't Disney, you aren't always guaranteed a happy ending!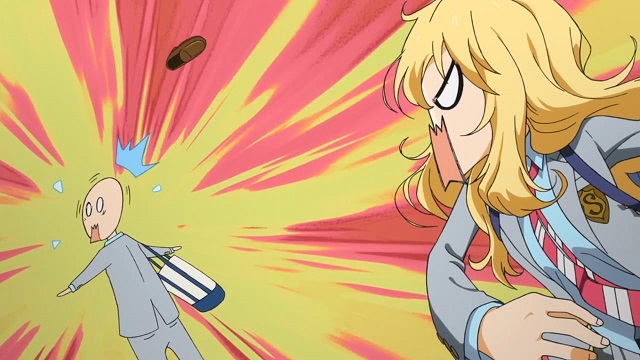 Yes, those 'chibi' moments can be annoying: There may be segments when characters appear as a cartoonised small figure (often when losing their temper). It's meant to provide humour… but can be hit and miss.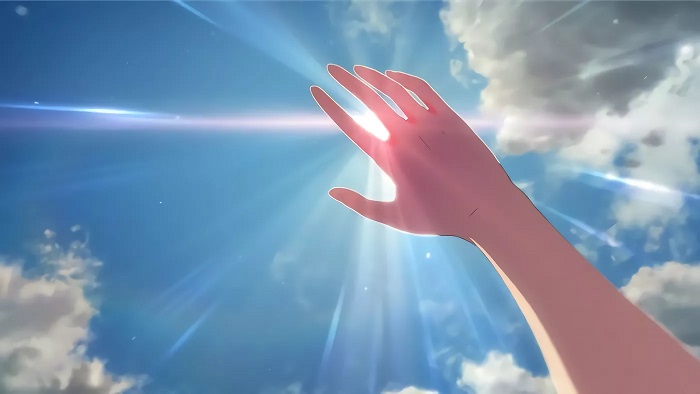 Symbolism is everything: Far more than in western animation, everything – music, weather, scenery, the background characters – may be giving subtle (or not so subtle) hints to reinforce the story. The best directors put a lot of thought into the whole experience.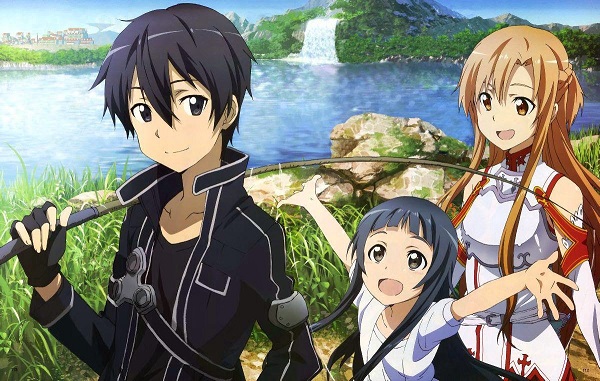 Do your research: It pays to read a review before watching something new – especially if watching with children. There's many shows that are brilliant, a horde that are average… and a few that may have you exclaiming: "WTF Japan?!"
Anime-to-camera: Quite a few anime have also had live-action versions created. Please avoid these as you will be ultimately disappointed compared to what the original offers!
Finally…

So there you are; a whole article about anime and I didn't once mention RWBY. Oops, I just did! (Though as RWBY is not Japanese, it is usually classed as 'anime inspired'…)
Hopefully this has shown you there's a whole host of stories out there waiting to be explored. Anime provides both a lift for the spirits and an escape from the day-to-day. Give it a try!
Ian Raymond, 2nd November 2020