For five weeks I'm recommending anime series that are great to binge watch, and which hopefully provide a bit of an uplift while we're in Lockdown. My previous recommendations were the anime romcom that is Toradora and the 'Sci-Fi noir' of Cowboy Bebop. You can also click here to read my blog about why anime is worth watching (and how it's definitely not just for kids).


My recommendation this week is another completely different show, the fantastic drama series from Kyoto Animation that is Violet Evergarden. In a series of articles like this the normal trend is to save the best 'till last, but what the heck; it's Valentine's day, so why not feature a show that is as much about emotions as anything else?
Violet Evergarden
"…honestly, Violet Evergarden is the most stunningly beautiful anime series ever produced"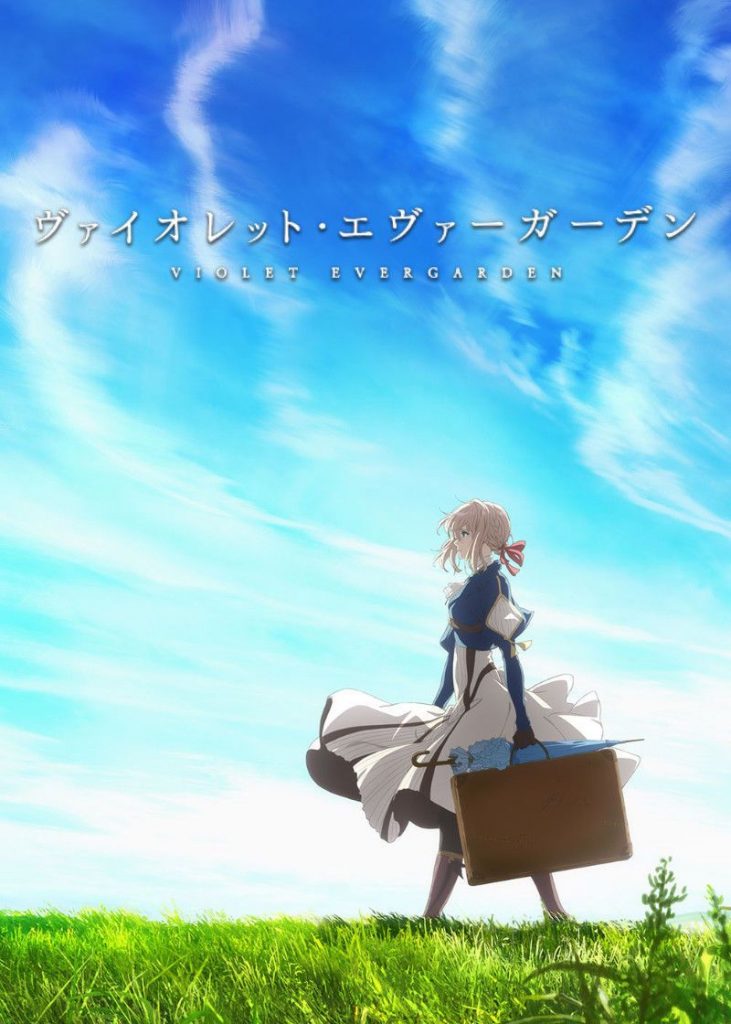 Violet Evergarden: Kyoto Animation 2018, 14 episodes, 8.4/10 on IMDB
Violet Evergarden centres around the title character; raised as a child soldier, Violet is invalided out of the army with prosthetic arms. She finds a job as a 'memory doll' – if you like, a scribe – and travels around the country taking on numerous commissions.
As you might expect, the show isn't just about these tasks, but about Violet herself; given her background, she has no ability to emphathise with others, let alone to deal with her own emotions. Given the importance of her job in writing meaningful communications between people, this at first causes any number of confusions, but is a key point as the story develops.

The world Violet Evergarden is set in has a 'light touch steampunk' air to it (much as in Howl's Moving Castle); there is much that looks like Europe between the wars, but there are other features – such as Violet's almost robotic arms and hands – that are far more advanced. But in this world not many have the ability to write, and this is where people like Violet come in. (Those averse to sci-fi / fantasy, don't worry – the world is merely a background setting for the story.)
I know I'm forever talking up the positives of books and shows, but honestly, Violet Evergarden is the most stunningly beautiful anime series ever produced. My own reaction when I saw it last year was, basically, 'wow'. The animation itself is of the calibre you would normally expect from a movie; the storyline and development of Violet is superb (fair warning, it does manipulate your emotions); the supporting characters aren't just pale imitations; and even the music is spot on.
And this is all typical of the studio that produced it – Kyoto Animation, which suffered such a horrible attack a few years ago. 'Kyoani' is a studio that is possibly the most ethical in terms of the way it treats its staff, but also seems to produce shows and films which are both inoffensive and of the highest production quality.

I'm sorry, but I can't offer any downsides to this show. (Kids will probably find it boring…?) Hopefully there will be a second series to fully close off Violet's story, but even without that what we are left with is superb.
At the time of writing, Violet Evergarden is streaming on Netflix. (Or you can borrow my pre-ordered Blu-Ray, once they are released in April…) Note that the English dub version is great, but there's just a slight difference in emphasis from the Japanese voice acting. Not better; not worse; just different.
Another one next week, and a very different show again… But in the meantime I cannot encourage you enough to watch the piece of art that is Violet Evergarden.


Page updated 14/02/21