This is something that a lot of people have asked me over the years; why am I always drawn back to Shetland? And if the truth be told, not something easily answered.
On one of my recent trips, the Saab carrying me away climbed higher and first Sumburgh Head then Fair Isle faded into the distance, and I wondered about this. Partly I think it's because we all have that 'place' where we feel an instant affinity and sense of belonging, where our memories are comfortable and friendly. For some, that's their idyllic Caribbean isle, for others the street they grew up in. I know some who would claim it as a particular bar! There are a thousand and one things which make these wonderful isles unique, and these and many other things urge me to return, again and again.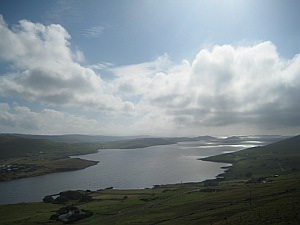 Then, there will always be 'those things' I think of, whenever imagining the Isles – too many to list in one post, but to be selective: Walking across the sand to St.Ninian's Isle; Cycling along the lane through the trees at Kergord in Weisdale; An evening in the Pier Head bar in Voe, while the rain hammers outside; Hitting a ball on the Asta golf course against the wind; Enjoying an excellent meal at the Shetland Museum restaurant in Lerwick, overlooking the small boat dock; Seeing what the latest addition is to the Haroldswick bus shelter; getting re-acquainted with the Puffins, those loveable clowns of the sea.
On my first visit to the isles, I stared bleary-eyed from the overnight ferry as it approached the capital in a grey dawn, watching the barren hills slide past and the small cluster of buildings which comprise Lerwick draw near, and wondered where on Earth I was heading. I still wondered that by the afternoon, when I had already taken in the town's museum and was on a quiet bus heading along under a sky full of clouds driven by the wind to my accommodation for the next few days in an even remoter part of the isle. But if I can tell you a secret… the place soon got under my skin. By the time I had caught the incredible afternoon light gleaming on the voes, made friends with some locals whilst sheltering in a cafe from the rain, watched at midnight an otter making its way along the shore, and generally became attuned to the islands' character, I was longing to return.
Is Shetland for everyone? No. Even I wouldn't claim that. For example, tourism is still very much growing in the Isles, so there isn't the level of facilities you might find elsewhere (not always a bad thing). And for those who enjoy high street shopping, once you've 'done' Commercial Street and the Toll Clock in Lerwick, that's pretty much it, although there are smaller shops scattered throughout the isles (well worth seeking out, they seem to sell just about everything). Also, everything you've read about the weather is true and probably understated! Not to mention that just getting there is not always easy – and never cheap. Sorry Loganair / Northlink, but that's, oh, so true.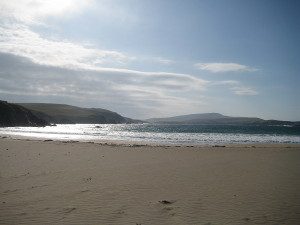 And yet, and yet, and yet… If you enjoy wildlife, history, relaxing, fresh clean air, a genuinely warm welcome, archaeology, walking, deserted beaches, cycling, bird watching, good local food, diving, golf, fishing, museums or just outstanding scenery, then I recommend a trip to Shetland – before the hordes discover it! If I were to give one piece of advice about your trip it would be to ask around locally about whatever it is you want to get out of your visit; Shetlanders (both natives and incomers) are rightly proud of their isles.
This whole site is expanding to provide more information which will be on the Shetland page, but for now see the links below – including that from the Lonely Planet, which in 2011 recommended Shetland as one of the top places to visit in the world. (Needless to say, they were right.)
Information for visiting Shetland – the official site
Getting to Shetland by Sea – Northlink ferries
Lerwick Youth Hostel – voted the best in the world
Lonely Planet recommends Shetland as one of the top destinations to visit
Ian
Post updated 14/07/18